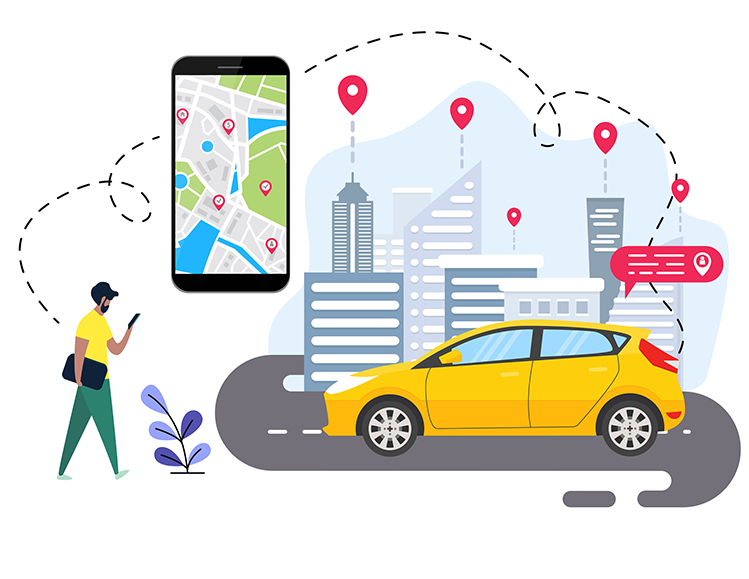 Travelling Delhi to Haridwar by road-Driving Route Conditions
Delhi to Haridwar by Car- Distance, Time and Useful Tips
The distance from Delhi to Haridwar is approximately 221 Km and can be covered in nearly 4.5 hours. There are two ways of covering the Delhi to Haridwar distance, one via NH334 and the other through Upper Ganga Canal Road and merging with NH334. You can hire a cab in Delhi and take either of these two routes to reach Haridwar. Both the route conditions linking Delhi to Haridwar is fairly good.
Places Along the Way
Take a Delhi toHaridwar Cab service and enjoy the drive through the mountainous locales of Uttarakhand. Using your car rental from Delhi to Haridwar, you can drive through quaint villages and historic towns like Meerut, Muzaffarnagar, Roorkee, Chandpur, Najibabad, and Haridwar. Don't forget to stop over at the iconic dhabas en route for good grub, when you are on a road trip from Delhi to Haridwar by car.
Propitiously located at the point where the Ganges River emerges from the Himalaya, Haridwar (also called Hardwar) is Uttarakhand's holiest Hindu city, and pilgrims arrive here in droves to bathe in the fast-flowing Ganges
Why travel from Delhi to Haridwar?
Have you ever embarked on a road trip from Delhi to Haridwar? If not, we will give you plenty of reasons to do so. If yes, then this guide may help you with a wholesome experience the next time you plan a trip.
Meanwhile, you can enhance your experience of exploring this ancient town by driving down from Delhi. Book a cab with Tajway Cabs, and you can turn your regular weekend getaway into an exciting road trip.
Our fully customizable road trip packages are sure to make your trip a memorable one.
Best time to take a road trip by car
Situated at the foothills of the mountains, Haridwar experiences a moderate climate throughout the year, with warm summers and equally pleasant winters. So, you can visit Haridwar pretty much any season.
However, the best time to visit Haridwar by car, plan a trip between October and February, when the mild chill in the air lets you soak the mountain weather. Don't forget to take part in different religious rituals and ceremonies that happen during this time in Haridwar.
Route 1: Delhi to Haridwar via Upper Ganga Canal Road & NH 334
Delhi to Haridwar distance Via NH 334
This is the only highway route from Delhi to Haridwar. As a result, it is used by all travelers and pilgrims. Via this route, the Delhi to Haridwar distance is only 236 KM and takes about five to six hours, depending upon factors such as the season, traffic, and roadwork, if any.
Typically, the traffic is light on this route. However, for the most accurate assessment, always check for live traffic updates and use real-time maps to know about the road conditions.
Delhi to Haridwar road conditions Via NH 334
Here's a basic Delhi to Haridwar road map for this route:
Places to eat on this route:
Bikanerwala, Modinagar: A popular confection chain of North India. This particular outlet on NH 334 is one of the largest in the region and also offers endless options for breakfast, snacks, and sweets.
Jain Shikanji, Meerut: This is a locally famous store serving Indian-style, masala lemonade. This place is quite famous among summer travelers.
Cheetal Grand, Muzaffarnagar: This famous highway-side restaurant with huge indoor seating and garden, serves Indian meals, thalis, confections, and a lot more.
Other means of traveling from Delhi to Haridwar
HOW TO REACH HARIDWAR:
Reaching Haridwar By Flights :
Jolly Grant Airport is the nearest Airport to Haridwar. It is situated 36kms from Haridwar. Taxis are easily available from Jolly Grant Airport to Haridwar. Jolly Grant Airport is well connected to Delhi with daily flights. Haridwar is well connected by motorable roads with Jolly Grant Airport in Dehradun.
Reaching Haridwar By Trains :
Haridwar is well connected by railway networks with major destinations of India. Haridwar has excellent rail network with all important cities of India. Trains to Haridwar run on regular basis.
Haridwar Junction Railway Station (IR station code : HW) is well-connected by train, with frequent trains to Delhi (4-5 hours) and Dehradun (1 hour). There are also a few trains per day to Rishikesh, but buses are faster and much more frequent. The train station is located on the south side of town, within walking distance to most hotels but a 2-km hike to Hari-ki-Pairi.
Reaching Haridwar By Road (Bus):
Haridwar is well connected with motorable roads. Haridwar is gateway to Shivalik range of Uttarakhand state. Luxury and normal Buses to Haridwar are available from ISBT Kashmiri Gate. Buses and Taxis to Haridwar are easily available from major destinations of Uttarakhand state. Haridwar is connected with National Highway 58.
Where to spend time in Haridwar

Haridwar the city of temples and ashrams is one of the holiest pilgrimages in India,also termed as 'gateway to gods'.Haridwar located at the foothills of the Himalayas where river Ganga enters the Indo-Gangetic plains.Haridwar is one of the four holy Indian cities that host the Kumbh Mela, a pious gathering of millions of Hindu devotees every 12 years.
Experience the ancient methods of healing with many certified Ayurvedic clinics & ashrams in Haridwar that offer sessions in Ayurveda, meditation and yoga. Every morning and evening,enchanted Ganga aarti is organised in sacred Har-Ki-Pauri Ganga ghat,attracting huge devotees and tourists.A spectacle of sound and colour is seen when, after the ceremony, pilgrims float Diyas (floral floats with lamps) and incense on the river, commemorating their deceased ancestors
Chandi Devi Temple: located on the top of Neel Parvat, is one of the major tourist attractions of Haridwar. With Goddess Chandi as its presiding deity, the temple is one of the Siddhapeeth.
Maya Devi Temple: Devoted to goddess Maya Devi, the temple is considered very sacred by devotees.
Mata Mansa Devi Temple: This temple located atop the Bilwa Parvat on the Shivalik mountain range is considered to be one of the most scared shrines of Haridwar.It is dedicated to Goddess Mansa Devi and along with the Chandi Devi and the Maya Devi shrines, the temple completes the Siddhapeeth Triangle. You can either trek around 3 km to reach the temple or take a ropeway popularly known as 'Mansa Devi Udankhatola'
Har ki Pauri: Har Ki Pauri, meaning 'the footsteps of gods' is the one of the most well-known ghats of Haridwar, and it's always bustling with pilgrims and tourists, who come to take a dip in the holy Ganga. The Ganga aarti held here at dusk every day is fascinating. The aarti, done with towering lamps, is accompanied by the clanging of temple bells, the blowing of conch shells, priests chanting prayers and hundreds of diyas (lamps) and flowers floating on the river. It is an experience of a lifetime.
Daksh Mahdev Temple: This Lord Shiva temple is located on the outskirts of Haridwar and is said to have been constructed at the site where King Daksha performed a yagna (a Hindu fire ritual). According to Hindu mythology, Daksha Prajapati was the father of Sati of Goddess Durga. It becomes a hub of devotees during the month of Shravan (July-August).
Sapt Rishi Ashram: The serene Sapt Rishi Ashram, one of the oldest in Haridwar, welcomes devotees looking for peace and spirituality. It also runs a Sanskrit school. It is said to be standing at the site where the holy River Ganga divides herself into seven streams
#1 Cab Booking website for Delhi to Haridwar taxi - Login into www.tajwaycabs.com
Why Choose Tajwaycabs.com for cabs from delhi to Haridwar
With a taxi from Tajwaycabs you can count on maximum flexibility. Whether you need mobility for a few hours, days,weeks or even months,one way-we got you.Are you going to be on a road for a day or less? With us you can take a car for only INR 10/km for outstation trip. You can always check out our options for long term car rental.
When you choose a service provider, you expect good service, but with Tajway cabs, we're better. We don't do a one-size-fits-all service. We hear your requirements, and provide a solution that fits perfectly to you, your needs and your budget. We pride ourselves on our affordable prices, as well as our helpful and friendly service.
All of our vehicles are serviced and maintained regularly so that you have access to only the best. If your car breaks down due to negligence on our part, not only do we solve the problem and replace your vehicle, but we also have a money-back guarantee. A free roadside assistance program covers all of our cars, so we'll be there in your time of need-even if you're stranded in the middle of nowhere!
When you need assistance, call Tajway cabs . We have a significant selection of well-maintained, high-quality rentals at an affordable price just waiting for you! With our cheap vehicle rental and friendly service, you won't want to hire a taxi a car from anyone else. Call us today.
Popular places to eat in Haridwar- Endorsed by locals
Dosa Plaza :If you are an, ardent lover of South Indian food, and thought that you might not even hear of an option for the same in a town like Haridwar, Dosa Plaza is here to surprise you. Right opposite to the railway station, Dosa Plaza doles out the crunchiest, tastiest of dosas in the town, along with mini idlis and uttapams as their specialities. Chach, another delicacy, is something that's not to be missed here. Relatively new in the region, it's carve a niche with the upmarket ambiance and efficient service
Big Ben Restaurant: Enjoy the soothing ambience of Big Ben Restaurant with one of the best veg thalis in town. The music here adds charm to the place which is rare to the religious town of Haridwar. Located at a walking distance from both the railway station and the bus stand, the restaurant is not only convenient to reach but is also perfect for a meal for the entire family. The service can be a bit staff here can sometimes make you work on your vocal chords more than it is required but the food makes up for it big time. Try the paranthas here along with raitas of different kinds.
Invitation is located right in the heart of modern Haridwar, quite close to the Main Complex Area. Needless to say, it's one of the best places to dine in at. Harping more on the multi cuisine food, it's got the best of all worlds. Perfect for a family dinner, it has a wide range of snacks, Chinese, Continental and Indian fare on the menu. You can also dig into some sumptuous pasta, pizza and more here.
Fun n Food is a favourite with residents and tourists alike, being one of the first restaurants to have opened up at Haridwar. A multi cuisine posh facility, it boasts of an efficient service and more than average food. Snacks are the speciality of the restaurant, with spring rolls, sandwiches, pizzas and more as the favourite ones. It's also a favoured hangout zone for many, usually brimming with young, college crowd. It also boasts of an outdoor partying place, which can be reserved well in advance.
Hoshiyar Puri:Another good option for exploring what North-Indian cuisine is made of is at Hoshiyar Puri. It's one of the most renowned and oldest food joints at Haridwar, having a fan following of its own. Boasting of an amazing collection of dishes on the menu, the restaurant is known for its lachha parantha and frozen rice pudding (kheer). Moreover, one should not miss aloo gobhi ki sabzi and dal fry here. The prices are affordable, the ambience is nice and the staff is courteous which make the overall experience of having food here one of the best in town.
Mohan Ji Puri Wale :Having achieved many milestones in the Food Industry, Mohan ji Puri Wale is known for their traditional homely food. From Aloo Puri, Samose and other snacks to sweets like Laddu, Halwa and Gulab Jamun, they have something for every foodie. If you want to pamper your taste buds with some 'desi' food, then this place is a must visit to treat yourself with a satisfying meal after a holy dip at Har ki Paudi.